Analyze the problem of LED lighting channel construction
October 16 12:05:41, 2019
Together to pay attention to the dynamics of the LED market. At present, with the advancement of technology, LED lighting products are gradually entering the mainstream lighting field, and the market demand has also entered a critical period of ready to go. At the same time, huge market prospects have also stimulated many domestic and foreign enterprises to seize the lighting market, and the competition has become increasingly fierce. 'The channel is king, the brave first,' LED lighting docking customers rely on channels, channels of LED lighting products acceptance and promotion efforts is the premise of the industry growth, channel construction is an important catalyst for product promotion. In the 2012 China (Beijing) International Lighting Fair, there was a kind of 'surge' - many companies slogans such as: 'Recruitment of agents at home and abroad,' 'recruitment agents' and other slogans. In response to issues concerning business investment and channel construction, we also interviewed numerous industry players and marketing experts. We also received a lot of soul collisions in discussions and communications with many industry executives and professional managers. Presented to readers.

The pressures are uncertain The channels of LED lighting companies can be divided into: engineering (invisible) channels and circulation (distribution) channels. The customers of engineering channels are mostly governments. Enterprises often play the role of 'integrated service providers' and need to coordinate many relationships. , full follow-up. The disadvantages of this model are the decentralization of the project and the long return period of funds.

Distribution channels need to use distribution partners, agents, franchisees, and other partners to achieve the sales model facing end customers. The advantage of this model is that it can quickly layout, realize the 'flowering' of the product marketing network, quickly occupy the consumer field, and at the same time save the company's Marketing costs. The disadvantage is that it is impossible to control the profitability and loyalty of the dealers. If there is no attractive investment policy, or if the profits are not realized in the short term after joining, it is common for dealers to withdraw or fight back.

Whether it is self-built channels or assisting dealers in developing projects and circulation markets, channel construction is the focus and focus of every enterprise. Many companies are paying attention to and attaching importance to the construction of investment promotion channels. Through our research, the more concentrated problems encountered by enterprises in channel construction are as follows:

1, lack of experience: LED lighting is an emerging industry, its strong industry characteristics, can learn from less experience, there is no feasible channel investment regulations can be followed;

2, low awareness: Many consumers do not really understand the LED lamps, LED industry in general is not high awareness, which directly led to a lack of confidence in many dealers; stores are not fully recognized and accepted LED products, Now open LED stores, exhibition hall display function is greater than the channel construction function.

3, the type of products is too little: at this stage, LED lighting product types are relatively small, not enough to prop up the store, consumers do not have too many choices when buying, this is also a lot of LED brands have not bought the main reason for delays.

4, the product price is generally high: This is the LED channel investment bottleneck problem, subject to high prices, resulting in many consumers on LED lamps 'from a distance,' so companies want to lower the threshold, to fit the price consumers can accept.

5. The service system has not been formed: Once the channels are formed, it means that all links of LED from production to sales should be smooth, but there are few professionals in the LED industry, no matter whether they are professional sales personnel or maintenance personnel. In the absence of talented people, many dealers have taken into account various uncertainties in regional operations, but have not yet started to develop investment promotion;

6. The quality of products varies: As the market downturn has led to increasingly fierce competition, some irregular behaviors have also begun to rise. Some irresponsible companies have 'swallowed' consumers through inferior products, utilizing the characteristics that consumers do not possess professional knowledge, and low quality. LED products flooded the market, causing users' bad influence and negative word-of-mouth publicity.

In addition to the above reasons, the impact of the social environment on LED companies is obvious to all.

The regulation of real estate has a great impact on related industries, including the lighting lighting market, which has led to a reduction in the profitability of operators. This shows that the lighting market has been deserted since last year.

Looking at the entire LED lighting industry, it is indeed in the heat of investment, the market is cold, such as the director of lighting marketing Laiteya also mentioned: channel construction requires a good operating model and financial support, companies will also consider their own funds as appropriate Situation, be calm with the channel construction.

The ancestors took a step-by-step approach to the market and Tang's experience went through all kinds of hardships. Even facing these difficulties, LED lighting companies could not slow down the pace of construction channels. From the perspective of future trends, the LED civil lighting market is still the largest cake, and companies must In advance of the layout, you cannot miss the opportunity.

In 2012, China (Beijing) International Lighting Exhibition and LED Lighting Technology and Application Exhibition came to an end. There was an upsurge in this exhibition - many companies broke out: Recruitment agents at home and abroad, Recruitment agents, etc. Slogans, such as Shanxi Guangyu, Foshan Lighting, Weihai Dongxing Electronics Co., Ltd., Lediyar Lighting, BDD and many other companies, these companies attach great importance to the investment, but also expelled the most attractive investment policies: such as Leitia lighting With regard to the investment joining policy, it provides a perfect joining policy from the opening decoration subsidies (subsidy amount from 300 to 500 yuan), product subsidies, purchase rebate, advertising support, product training, and after-sales service. Foshan Lighting also proposed domestic sales to implement regional management: South China, East China, Shanghai, North China, West China, and Northeast China. The sales centers in each district are located in Foshan, Hangzhou, Shanghai, Beijing, Chengdu and Shenyang, and have joined the franchise policies for market protection, market development, promotion support, rebate incentive programs, sales and product training. The investment promotion policies of many enterprises are also largely the same, and it can be seen that the significance of channel construction is extraordinary. Foreign-funded enterprises also actively deploy the Chinese market, seize business opportunities, and win certain market share, such as CREE, GE, etc. They strictly screen and manage distributors, achieve win-win cooperation, and rely on the regional power of dealers to open up markets.

In response to issues concerning business investment and channel construction, we also interviewed numerous industry experts and marketing experts. In response to the issues raised above, the experts also gave many solutions.

1, market segments, increase product added value, the current stage of LED lighting, not only in the general lighting market, there are entertainment lighting, agricultural lighting, sports lighting, commercial lighting, medical lighting, etc., companies can not pursue 'big and full' But to do deep and fine in the areas of good and familiar, 'long-sleeved good dance' can lead to guest cheering. In addition to expanding its business in the market segments, it strives to increase the added value of its products, meet the needs of its customers, and create brands so as to enhance its reputation and industry competitiveness.

2. From selling products to selling ideas, in 2012 Beijing lighting exhibitors, we saw that domestic companies are still displaying products and selling products in order to sell products, but international companies sell 'idea' and are an experience and enjoyment. For example, the Philips Pavilion at this year's show shows an intelligent, artistic total solution. GE's special exhibition hall did not exhibit products, but showed and shared many exciting lighting engineering cases. To put it plainly, domestic companies are selling 'Chinese cabbage'. On the contrary, international companies can design a more aesthetically pleasing and ideological atmosphere, and can provide a complete set of solutions. The price of a single product is not high, but the overall solution can fully enhance the value of the product.

3, multi-channel sales network expansion, although the current LED companies to engineering-based channels, but the future must go through the distribution channels of stores, just as colleagues saw in Japan before the inspection, LED products in supermarkets, stores everywhere. Store channel construction companies should pay special attention, not only can be stationed in home building materials stores, but also stationed in home appliances, commercial channels, expand market share, accelerate product promotion, popularization and promotion. In the traditional lighting field, the most successful channel construction is NVC Lighting and Op Lighting. They are also making LED lighting in transition. The number of NVC outlets has reached 18,000, and Op Lighting has 10,000 direct sales stores or franchise stores. China's outstanding lighting companies use the turnover to explain what is the reason that 'channels are king'.

4, to open up e-commerce channels, e-commerce LED lighting products is a new channel model, but also according to national semiconductor lighting research and development and industrial alliance research data show that products sold through e-commerce show a gradual upward trend, the company completely Can use this platform to open up new sales channels and occupy more market share;

5. Disputes over invisible channels. With the growth and quality of lighting designers, the health and integration of the light environment is valued by many owners and architects. It can be seen from this lighting show that designers are a bridge. Give the building life and soul, the enterprise must pay more attention to this part of the group, through this 'bridge' to influence and persuade customers to achieve the brand's gradual expansion. The designer's team can also expand into home improvement design, decoration companies and other fields.

The Gold Cup Silver Cup is not as good as the consumer's word of mouth. The Gold Silver Award is not as good as the consumer's praise. In the final analysis, the company's product quality, the product's nearby value, and the artistic and intelligent overall solution are the key factors that ultimately affect product marketing. Doing a good job in channel construction on the basis of continuous attention and meeting the needs of customers and providing corresponding solutions are the fulcrum for winning consumers' favor.



Smart RGBW bulbs add RGB colorful light based on the traditional warm light, they are suitable for home, bars and offices. No need to install the cable lines again, once the bulb is installed on the lamp holder, just turn on the switch, the traditional lighting can be immediately upgraded to smart RGBW lighting, you can enjoy the convenience and interest brought by smart lighting.

Users can choose the light mode according to time, scene, mood, and also can adjust the brightness, color temperature and color of the light. With the grouping function on the App, each group can control up to 48 products, users can set 7-8 groups on one App, total around 350 products can be controlled via one App. You can set the light turn on / off time by the timing function. Using energy-saving and high-quality LED lamp beads, the light source is stable without stroboscopic, the effective life can be more than 20000 hours. Our LED products can meet global quality standards and pass European testing by TUV Rheinland. Bulbs have certifications such as EMC, RED, LVD, ROHS, REACH, ERP and FCC.




The App are developed on the most advanced Bluetooth Mesh technology. [LinkupHome" App can be downloaded in the App store or Google Player, then you can control our product without any complicate steps. The App is stable, easy control and multifunctional.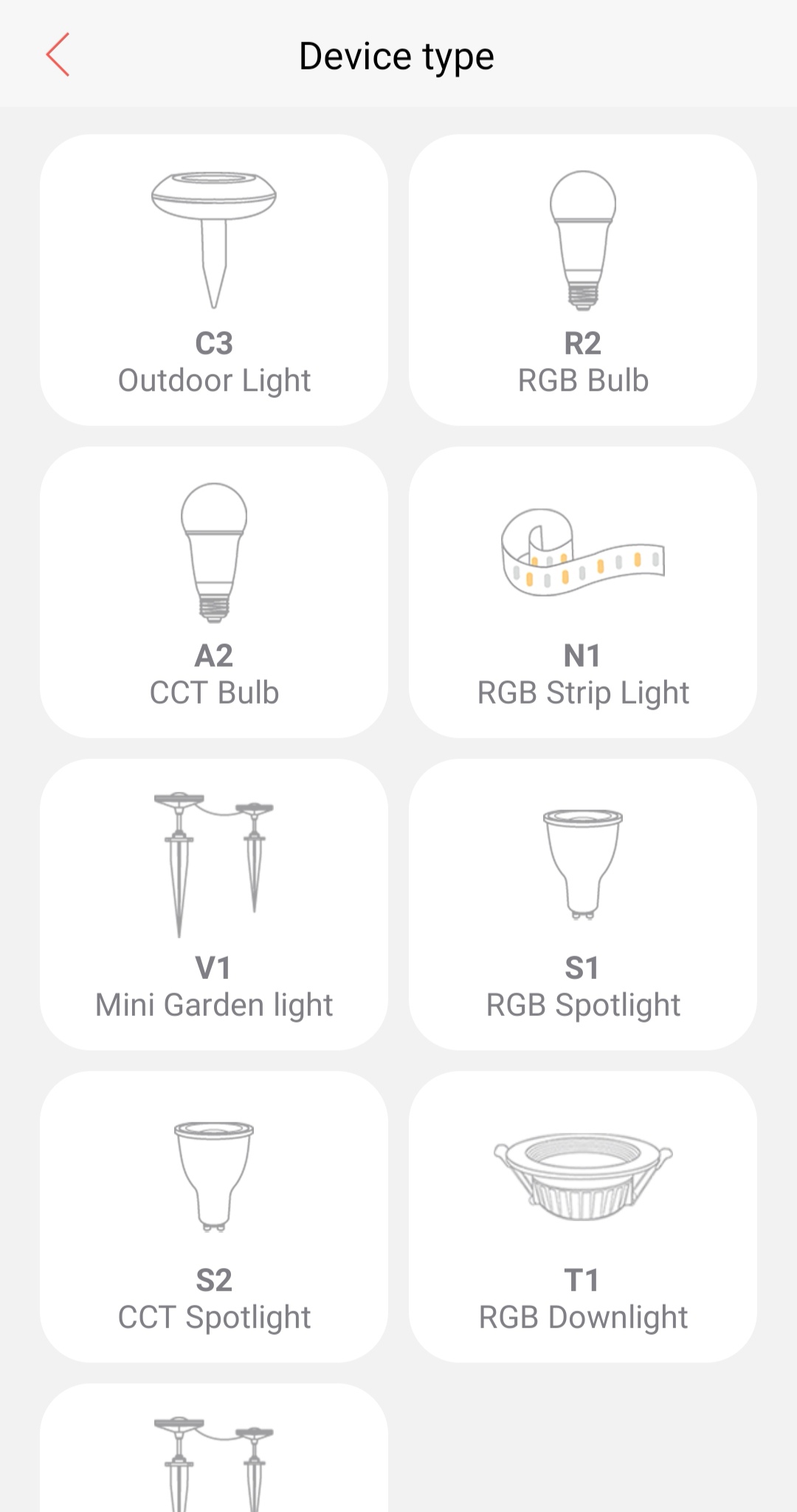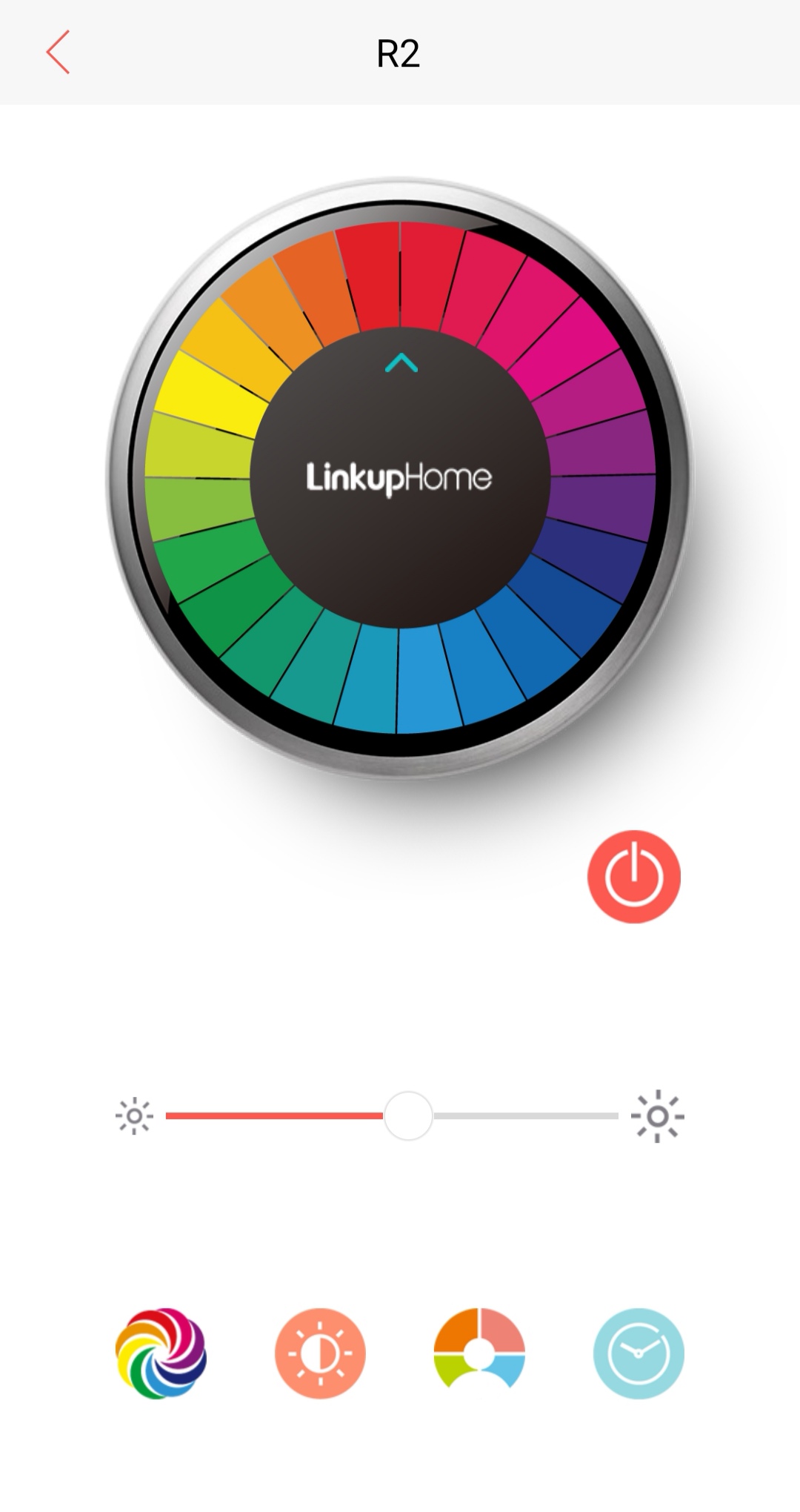 The advantages of Bluetooth Mesh are fast connect, low power consumption, no password required and Ad-Hoc Network. No need WIFI and hubs, as long as you have a Bluetooth-enabled smart phone, you can experience the smart light. When you install several smart bulbs, the self-organizing network function can make the signals free connect, break the limitation of distance.




Product Parameters

Description: Bluetooth Mesh RGB Bulb with APP
Bluetooth: CSR Bluetooth Mesh
Control Qty: 1-48 pcs
Control distance: 20m
Product dimension: Dia66mm * H122mm
Material: PC & Aluminum & Nylon
Working Voltage: 100-240V
Frequency: 50/60Hz
Color Temperature: RGB+Warm White (3000K)
LED Power: 9.5W (710lm)
Base Type: E27/E26/B22 available
Warranty: 2 Years
Certification: CE(EMC,RED), ROHS,FCC
Color box size: 15.3*7.4*7.4cm
G.W. of Unit: 0.22kg
N.W. of Unit: 0.18kg








Phone Controlled Light Switch,Phone Control Bulb,Smart Wireless Light,Group Control Bulb

Ningbo Homey Photoelectric Technology. Co., Ltd , https://www.linkuphome.com